Eagles in Colorado: What You Should Know About the Golden Eagle and Bald Eagle
As the highest state in the USA, Colorado is the wintering ground of choice for Golden Eagles and many other carnivorous birds.
Bald Eagles and Golden Eagles are two species of eagles that you can find around Colorado's chilly coastlines and ranges. The best place to see eagles in Colorado is at the Chatfield Reservoir and Highline Lake in Denver.
There are numerous spots in CO where these raptors can be seen, including the Green Mountain Reservoir, Blue Mesa, Grand Lake, Navajo Reservoir, and Lake City.
| | | | | | |
| --- | --- | --- | --- | --- | --- |
| Name of Raptor | Appearance | Wingspan | Habitat | Diet | Special Feature |
| Bald Eagle | White head and tail, yellow bill, and dark brown body | 5'11"- 7'7″ | River valleys, grasslands, and coastlines | Pink salmon, trout, waterfowl, and herring | Immature Bald Eagles do not have the characteristic white cap |
| Golden Eagle | Black bill and brown body with golden feathers around the neck | 5'11"- 7'8″ | Coniferous forests and mountain ranges | Rabbit, marmot, squirrel, red fox, and lamb | They look like Ferruginous Hawks |
Two Species of Eagles That Are Found in Colorado
These are the species of eagle that you'll find in Colorado. We'll discuss them in length here.
1. Bald Eagle – Haliaeetus leucocephalus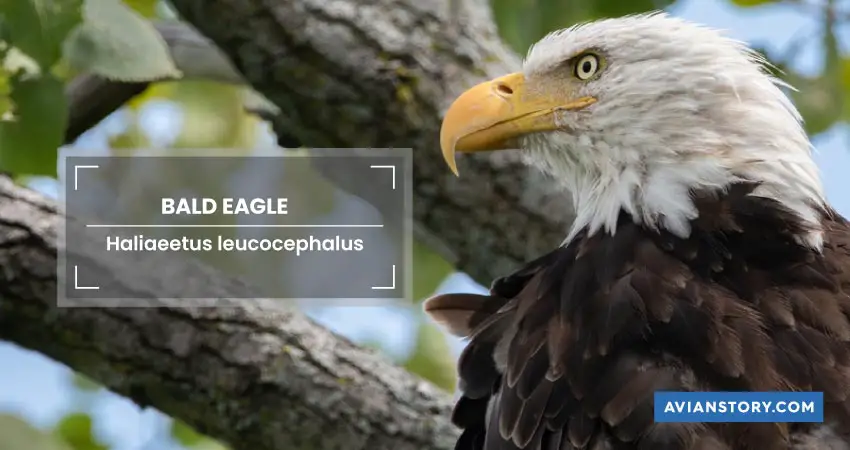 The Bald Eagle is a spectacular bird of prey that soars to extreme heights and is widely recognizable for its white plumage and bright yellow beak. They are commonly found around the water bodies in Colorado and other Northern states.
Species Profile
Length: 28″- 40″
Weight: 6.5- 15 lbs.
Wingspan: 5'11"- 7'7″
Speed: 120- 160 km/h
Lifespan: 20- 30 years
What Does a Bald Eagle Look Like?
Adult Bald Eagles sport snowy white fan-shaped tails with deep brown backs and wings. Their legs and bills are bright yellows in color.
The head of the Bald Eagle is covered with spotless white plumage. And the name Bald Eagle originates from "piebald," an Old English word that means "white speckle."
Juvenile birds have dark brown heads, wings, and tails. Their lean bodies are specked with white. The young eagles grow adult plumage within five years.
Despite their majestic look, Bald Eagles sound unimpressive, like shorebirds, with little trills and whistles.
Where Can You Find Bald Eagles?
Bald Eagles prefer natural lakes and reservoirs. They are often seen hunting along the Colorado coastlines, rangelands, and unfrozen lakes.
Members of this species commonly winter in lakeside forests and coastal wetlands, where they can prey on shorebirds and fish.
Bald Eagles are native to North America, which means you can find them year-round everywhere in the US, as well as Alaska, Canada, and Northwest Mexico.
You can also find these sublime creatures perched on tree tops and on the ledges of Colorado skyscrapers.
What Do Bald Eagles Eat?
In Colorado, Bald Eagles are found hunting together for freshwater fish, such as pink salmon, herring, flounder, and trout.
Mammals and songbirds make a good part of their diet. These prolific raptors also consume waterfowl, rabbits, crabs, and snakes.
With a knack for scavenging, they sometimes feed on dead animals and steal food from other raptors.
Cool Facts About the Bald Eagle
The Bald Eagle is the national emblem and military insignia of the United States that symbolizes pride and strength
According to Guinness World Records, Bald Eagles make the biggest nests in the Accipitridae family
Bald Eagles almost went extinct due to DDT poisoning in the middle of the 20th century
They can see about 5 times farther than the average human and spot a hare from 3 miles away
Bald eagles do not get their characteristic white feathered head till they are 5 years old
2. Golden Eagle – Aquila chrysaetos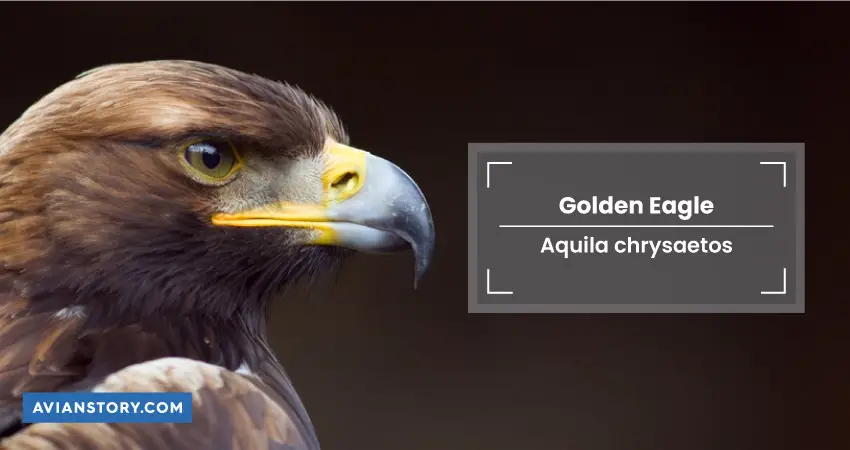 The Golden Eagle's sharp talons, paired with their indomitable strength, are used for hunting down a variety of prey. They make large nests near mountaintops and high places and can fly at greater altitudes than most raptorial birds.
Species Profile
Length: 26″- 40″
Weight: 6.5- 16 lbs.
Wingspan: 5'11"- 7'8″
Speed: 320 km/h maximum
Lifespan- 20 years in the wild
What Does a Golden Eagle Look Like?
Golden Eagles are actually dark-brown in color. They have golden brown plumage only around their heads and necks.
Adult Golden Eagles have dark brown tails with pale bars, yellow bills, and dark undersides. Their small heads protrude from their bodies.
Young birds have well-defined white speckles at the base of their tails and some at mid-wing. Golden Eagles look very similar to a Ferruginous Hawk, which is slightly paler under the tails and wings.
Where Can You Find Golden Eagles?
In the Colorado countryside, Golden Eagles are seen flying around coniferous forests, hilly landscapes, and farmlands.
During winter, Golden Eagles that live in Northern Canada fly thousands of miles to the Midwestern US states, which includes Colorado.
These Eagles can tolerate the cold temperatures of arctic tundra. But they prefer the open mountains, plains, and rangelands of Colorado.
What Do Golden Eagles Eat?
Golden Eagles are carnivores, with their diet consisting mainly of rabbits, hares, and ground squirrels. They eat small to medium-sized mammals, including mice, jackrabbits, and prairie dogs.
These ferocious birds also prey on fish, reptiles, and large insects and are known to take carrion when there is a scarcity of food.
Because of their big size (and an even bigger appetite), Golden Eagles feed on reindeer calves, lambs, red foxes, and land fowls.
Cool Facts About the Golden Eagle
The eyesight of Golden Eagles is eight times stronger than humans
Golden Eagle is the national bird of Mexico and is one of the fastest eagles in the world
An average Golden Eagle nest is 2 feet tall and 5-6 feet wide
The largest Golden Eagle nest recorded was 20 feet tall and more than a hundred pounds heavy!
Golden Eagles keep aromatics in their nests to stave off bugs and insects
The Difference between Bald Eagle and Golden Eagle
You can use a few tricks to tell Bald Eagles from Golden Eagles. An adult bald eagle has a big, yellow bill, while a Golden Eagle sports a smaller dark-colored bill.
A white head and brown body are unique to the Bald Eagle. Golden Eagles, on the other hand, show different shades of brown. It has golden feathers on its nape and a walnut-brown head.
Immature Bald Eagles look similar to adult Golden Eagles but have a more elongated head. Juvenile Golden Eagles' wings and tails are mottled with white patches.
The legs of Bald Eagles are not all the way covered with brown feathers. Golden Eagles have fully-feathered feet in buff coloring.
Rounding Up
Not many species of eagles inhabit the Centennial State. If you ever travel to Colorado lakesides in winter, you may catch a glimpse of a Bald Eagle in its hunting action or a Golden Eagle soaring to the clouds. These picturesque predators will stop you in your tracks and make you appreciate the view.
---
Featured Image Credit: Ian Duffield, Shutterstock